Deuces and Joker Poker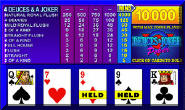 Deuces and Joker Poker Screenshot
Deuces and Joker Poker is played with a 53 card deck, instead of the normal 52 cards. The extra card is a Joker and is a wild card. The Deuces in the deck are wild and stand in for cards of any denomination and suit to complete a winning hand. The Deuces are cards with a face value of two. The maximum payout in Deuces and Joker Poker is 10'000 coins.
Deuces and Joker Power Poker refers to the fact that the Deuces and the Joker in the pack are wild cards. So, it's like having five Jokers in one pack! Whenever you get a Joker or one or more Deuces in your final hand, the computer will automatically assign a suit and value to it. This will give you the highest possible payout for the cards that you are holding.
When you have completed the game, the total hand values of all four hands is calculate and the total winnings are added to your credits. If you have a winning hand you will have the option to double or collect your winnings. The highest hand you can get in Deuces and Joker Power Poker, is Four Deuces and a Joker and it pays out 10'000 coins, with five coins bet.
Deuces and Joker Power Poker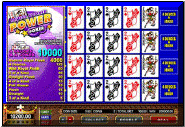 Deuces And Joker Poker Poker Screenshot
Deuces and Joker Power Poker is different from the standard Deuces and Joker video poker, as you play four identical hands of cards.
At the beginning of each game only the first hand is shown to you, while the other three hands remain face down. The game then progresses like a standard video poker game.
When you choose to hold a card the identical card is revealed in the other three hands. If you choose to un-hold a card the three identical cards are turned face down. When you have chosen the cards you want to keep, click the Draw button. You will be dealt new cards in place of the cards that you did not hold. The other hands will then be revealed.
Play Deuces and Joker Poker and Power Poker at: